Oman is largest non-OPEC oil producer in Middle East
This week Oman became the first major non-OPEC oil producer to state its willingness to cut oil production by up to 10 per cent in coordination with other countries in an effort to stabilize the oil market.
Oman is the largest producer of crude oil (including condensate) in the Middle East that is not a member of the Organization of the Petroleum Exporting Countries (OPEC).
As a result of both enhanced oil recovery (EOR) techniques and new discoveries, Oman's oil production has increased each year since 2007 and ranked 7th among Middle East oil producers and 21st in the world, as of 2014 (the most recent full-year data).
 Production exceeded one million barrels per day in June 2015 for the first time since December 2000.
Continued use of EOR techniques, combined with several recent discoveries, could contribute to future production growth.
Oman has two operating refineries with a combined capacity of 222,000 barrels per day (b/d) and plans to expand existing refinery capacity by 81,000 b/d by 2018. By 2019, Oman plans to construct a new refinery with a total capacity of 230,000 b/d near Duqm, a port town on the Arabian Sea.
The country also plans to build a 200-million-barrel crude oil storage terminal at Ras Markaz, south of Duqm, which would be one of the world's largest crude oil storage facilities.
Down-hole tubing failures are costly. Reduce failures due to wear/abrasion with EndurAlloy™.  Available in Texas through Maple Leaf Marketing.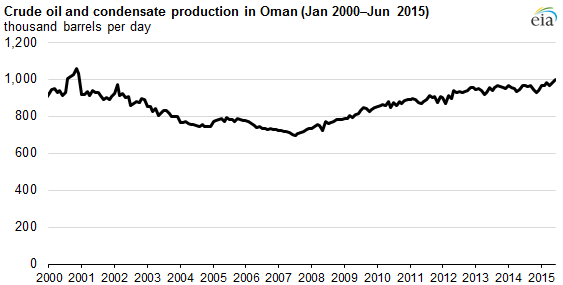 Oman is an important exporter of crude oil, with virtually all of the country's oil exports destined for countries in Asia.
In 2014, Oman exported an estimated 800,000 b/d, or 80 per cent, of its crude oil and condensate production, of which 72 per cent went to China. Oman's hydrocarbon sector, which includes crude oil, natural gas, and other liquid fuels, accounted for 84 per cent of government revenue and 47 per cent of the country's gross domestic product in 2014.
More information about Oman's energy sector is available in EIA's Oman Country Analysis Brief.