As of 2012, non-powered dams had the potential to add 12,000 MW of additional generating capacity to US power grid
According to the US Energy Information Administration, in 2016, nearly 300 MW of hydroelectricity generating capacity is expected to come online from dams that did not previously have electric generating units, commonly referred to as non-powered dams.
Non-powered dams capacity additions make up 92 per cent of the 320 MW of planned hydroelectric capacity for 2016.
Expected capacity additions at NPDs in 2016 are large compared to recent NPD additions, which totaled 126 MW over 2006–15, but relatively small compared with total US hydroelectric capacity of nearly 80,000 MW as of April.
The National Hydropower Association estimates that 3 per cent of the nation's 80,000 dams currently generate electricity.
Existing conventional hydroelectric generators in the US provided 251 million megawatthours of electricity in 2015, or about 6 per cent of annual total net generation.
Unlike other forms of renewable-fueled electricity, such as solar and wind, hydroelectric capacity additions have been relatively modest in recent years.
Also, about 1,000 MW of hydroelectric capacity has been decommissioned over the 2006–15 period, mainly through the removal of existing dams.
New conventional hydroelectric generators may not be eligible for federal tax credits, unlike new wind and solar additions.
Depending on the state, hydroelectric generation may not be eligible for compliance with state renewable portfolio standards or voluntary goals.
Although electric generating units have been installed at non-powered dams throughout the country, the Ohio River accounts for much of this activity.
About 74 per cent of all the new and planned non-powered dams capacity additions from 2006 to 2016 occurred along the Ohio River.
Many of the existing dams along the Ohio River that have been or will be converted to produce electricity are used to maintain navigable depths during periods of low water flow.
In a study of hydroelectric potential at non-powered dams, the U.S. Department of Energy estimated that as of 2012, non-powered dams had the potential to add 12,000 MW of additional generating capacity, with about 3,000 MW of capacity in the Ohio River region alone.
S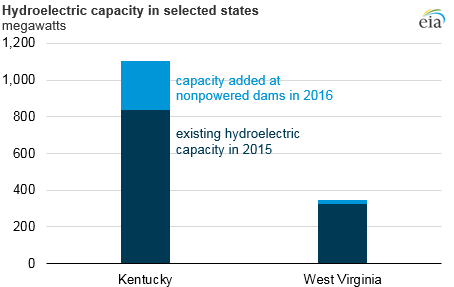 ince then, four nonpowered dams projects have begun construction: Cannelton, Meldahl, and Smithland in Kentucky, and Willow Island in West Virginia.
Once these projects are completed, the total hydroelectric capacity along the Ohio River will increase by 313 MW to a total of 554 MW.
As a result of these nonpowered dams capacity additions, Kentucky and West Virginia will increase their hydroelectric capacities by roughly 32 per cent and 15 per cent, respectively, in 2016.
The DOE study only assessed technological potential based on the energy density of the water flow at certain stream segments across the United States.
The study did not address the economic, regulatory, and political hurdles that may affect actual development of hydroelectric projects.